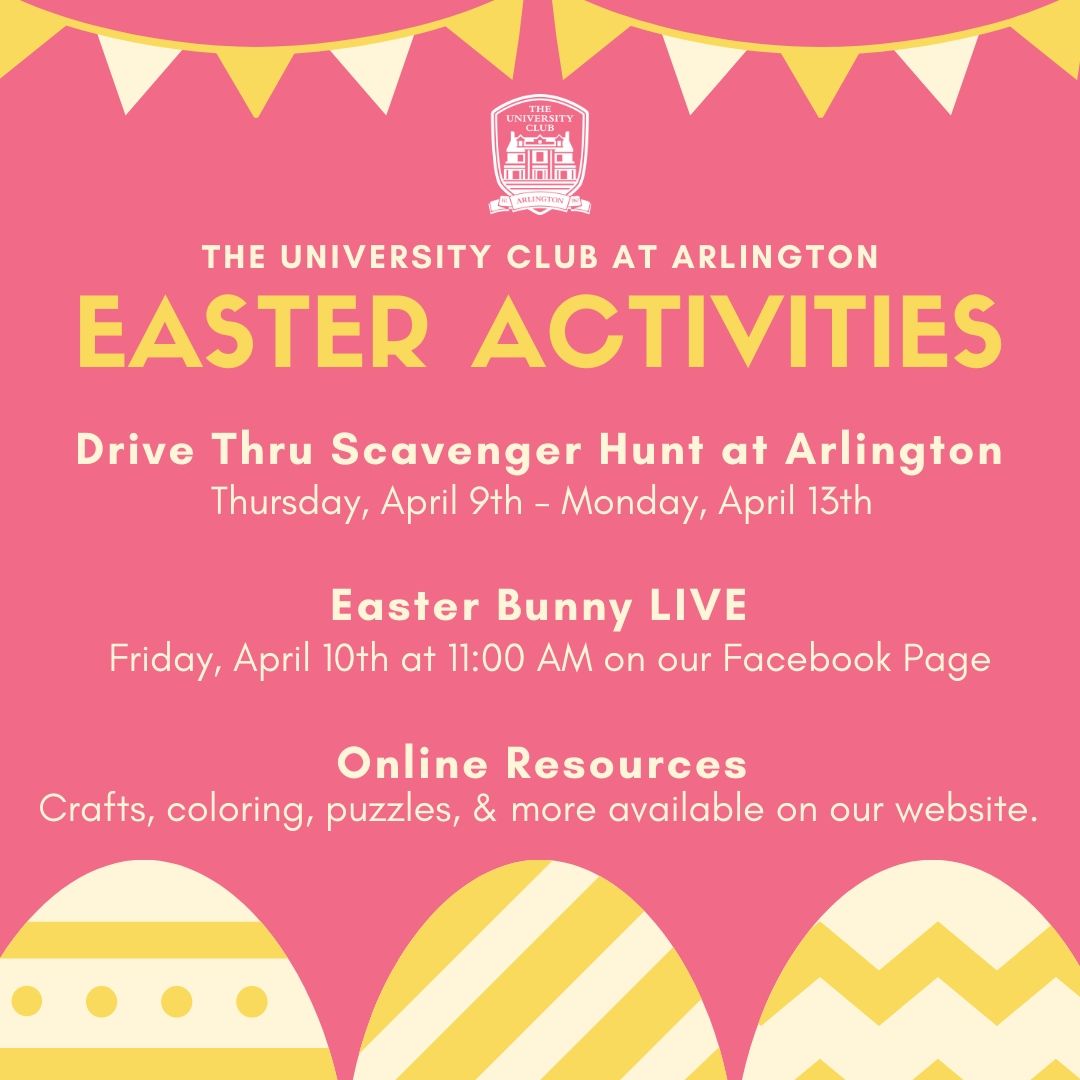 We are disappointed that we cannot host our Annual Easter Egg Hunt and Easter Brunch, but your safety is our number one priority. We are happy to offer some alternative Easter activties you can do with your kids from the safety of your home.
Drive Thru Scavenger Hunt
Come to The University Club at Arlington to participate in our Drive Thru Scavenger Hunt! We will eggs "hidden" on the property. Find them by following clues. Click here to download the scavenger hunt clues. All eggs will be visible from your vehicle as you drive thru the parking lot. Please remember to maintain proper social-distancing and remain in your vehicle while you complete the hunt. This is NOT meant for children to get out of the vehicles and remove any of the items; this is just for the fun of hunting. Since we cannot safely provide treatbags or candy for the kids, we encourage parents to have candy or a special treat for after the hunt. Scavenger Hunt items will be out beginning Thursday, April 9th and remain out through Monday, April 13th. Come at your leisure to complete the hunt with your family!
Easter Bunny LIVE
You still have a chance to "see" the Easter Bunny with our Facebook LIVE video on Friday, April 10th. The Easter Bunny will be live to wave to the children and we will have also have Easter story time. The Live broadcast will be at 11:00 AM and will be archived on our Facebook page after the initital broadcast. If you aren't already, follow us on Facebook to stay up to date on all things Arlington.
Online Resources
Click here to download our printable Easter Activity pack. Scroll down for crafts you can do at home.
If you participate in any of our Easter Activties, please share your photos with us by tagging us @UClub_Arlington on Instagram and Twitter and @UClubArlington on Facebook.
Click the photos below for links to fun at-home Easter crafts
Click here to download our print at home Easter Activity Pack.